How to Discuss Skilled Nursing Care With Your Mom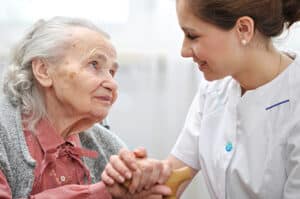 It's time to have an honest conversation with your mom about her upcoming cancer treatments. You don't want to add to her stress, but you've realized the importance of skilled nursing care during her recovery. How do you discuss skilled nursing care without upsetting her?
Involve Her Oncologist
Involve your mom's oncology team in discussions about skilled nurses. If your mom realizes her care team believes it's the best path forward, she's less likely to argue. That will make it easier for you to make the arrangements she needs.
Discuss the Importance of Home Health Care Services
Make sure your mom realizes how important it is to have nurses helping with tasks you're uncomfortable or ill-equipped to handle. You don't have the medical training to assist with an IV line, so her option would be to return to the hospital. You are not comfortable giving her an injection of insulin.
You'd feel better knowing that her care needs of a medical nature are handled by someone with the right training. Tell her you're happy to help with laundry, cleaning, and meals, but that medical care is beyond your skill set.
Talk About the Things Skilled Nurses Can Do
Cancer is a scary word, and your mom is already anxious. If she understands what nurses can do to help her, it may help ease her comfort.
She's worried about the pain she'll feel after surgical removal of her breasts as the first step in treatment for breast cancer. Nurses are there to monitor her pain and make sure she's not experiencing severe discomfort.
If her pain levels aren't managed well with over-the-counter medications, they can consult with her surgeon. A nurse can set up IV pain medications if that's recommended and make sure your mom is comfortable.
Your mom has heard that chemo and radiation make you feel incredibly nauseous. Nurses can administer IV fluids and nutrients if needed. They can also help with medications designed to help with nausea.
Nurses can also assess your mom's mental and physical health. If she's showing signs of depression, her nurses can alert her oncology team and come up with a plan to help her. Nurses can check her blood pressure, pulse, oxygen saturation levels, and weight.
Your mom may need to change her diet to help her body heal. Nurses can work with her on dietary changes that aren't hard to implement. They'll teach family caregivers how to shop for healthier items and what your mom should and shouldn't eat.
Skilled nursing care is a good way to keep your mom from returning to the hospital. Emphasize that aspect. She may have a nurse with her at home, but it's to keep her from experiencing issues like extreme pain or dehydration that could cause her to need to be hospitalized again.
If you or an aging loved one are considering skilled nursing care in Springfield
,

 PA please contact the caring staff at True Direct Home Health Care today.
Latest posts by Perry C. Doc Alleva, Owner & Administrator
(see all)